Rail City was conceived in December, 1952 while Dr. Groman and his family were on vacation in the Southwest. While driving through Gallup, N.M., Dr. Groman came upon a narrow-gauge 0-4-0 Porter locomotive (No. 1) for sale by the side of the highway. The locomotive not only hauled coal for the Defiance Coal Company but also had appeared in two Hollywood movies in the 1940's - "Kit Carson" and "The Desert Song."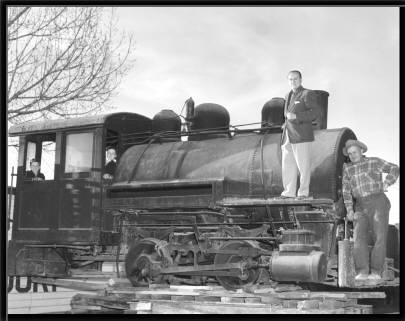 Bob and Stan pose with their father Dr. Groman and Bert Cresto on No. 1 in Gallup, N.M. in December, 1952. [RCHM Photo Collection]
Dr. Groman purchased the locomotive, renamed it the "Kit Carson," and had it shipped by rail from Gallup, N.M. to Lacona, N.Y., 47 miles north of Syracuse toward Watertown. It traveled the remaining five miles on a flatbed truck to a 160 parcel of farm land owned by Dr. Groman. The purchase of this 1921 Porter locomotive was the catalyst for the construction of the first steam-operating railroad museum in the U.S. - Rail City Museum. Dr. Groman spent the next 2 1/2 years purchasing more equipment, dismantling many railroad structures and buildings, and reassembling them at Rail City.








"The first steam-operating railroad museum in the U.S.A."
Website owned and operated by:
Robert J. Groman
130 Smokey Hollow Road
Baldwinsville, NY 13027
RJG@railcitymuseum.com


Rail City opened on July 4, 1955 and hosted over 30,000 visitors in its first year of operation. And even after its grand opening, Dr. Groman continued his quest for authentic railroad equipment and structures. Rail City Museum located on "Scenic Route 3" was a major tourist attraction not only in New York State but the northeast United States and Canada as well.